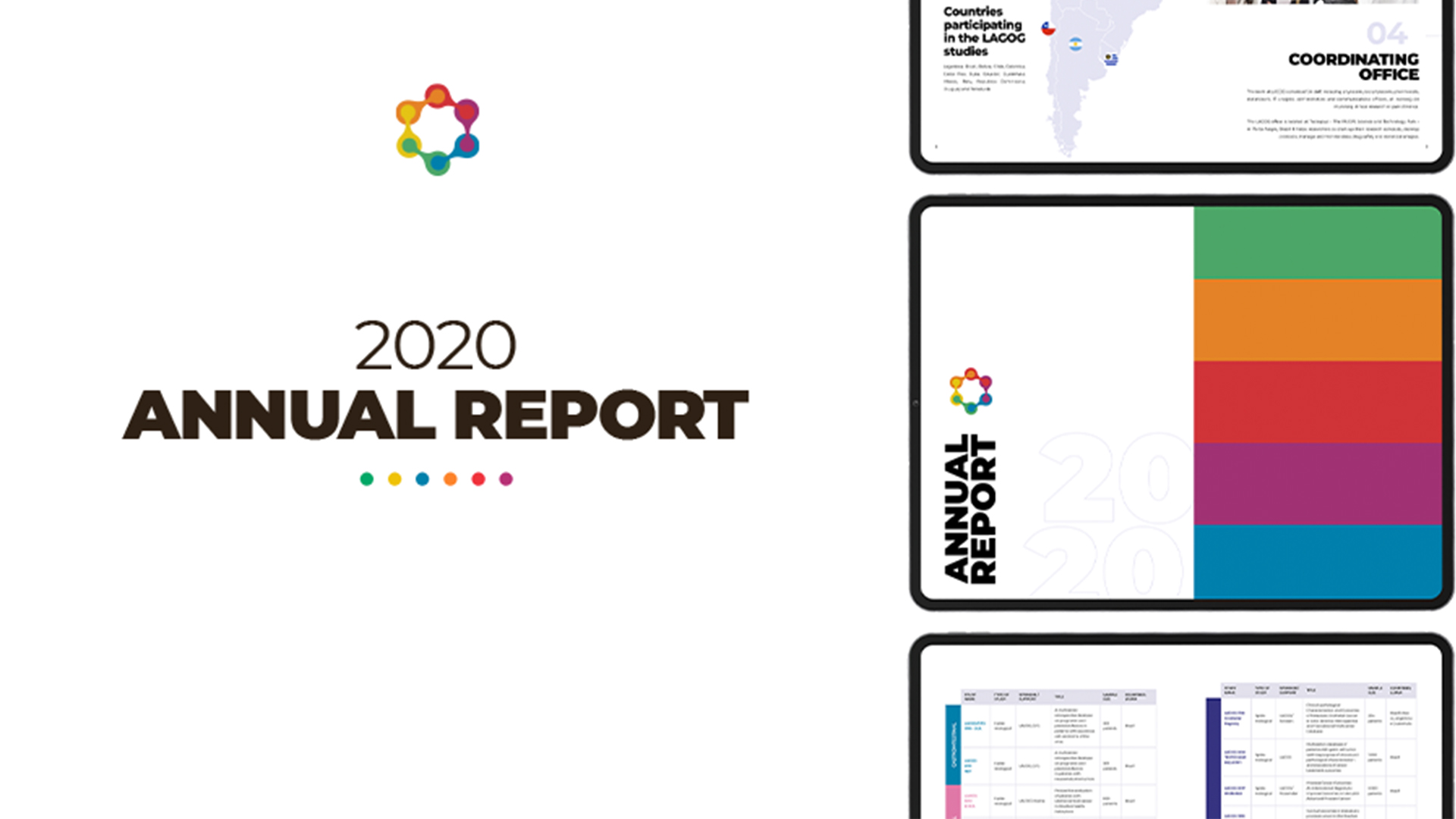 2020: A year of challenges and learnings The pandemic has had an undeniable impact on our daily lives, not just on LACOG's operational activities, but also on the research sites that contribute to the studies. But despite all the difficulties, we managed to adapt over the year and 2020 has been a positive one for us. We know how important the studies we carry out are for patients, and even during the pandemic, research sites have done an extraordinary job to continue treating patients safely. We would like to thank our staff, members, partners, research centers, patients and donors for the support they have given to the LACOG mission, which is to improve cancer research and cancer patient care in Latin America. We invite you to download LACOG's Annual Report and discover our achievements of the last year, as well as find out more about our trajectory which seeks to have an impact on Latin American lives through cancer research. Download 2020 Annual Report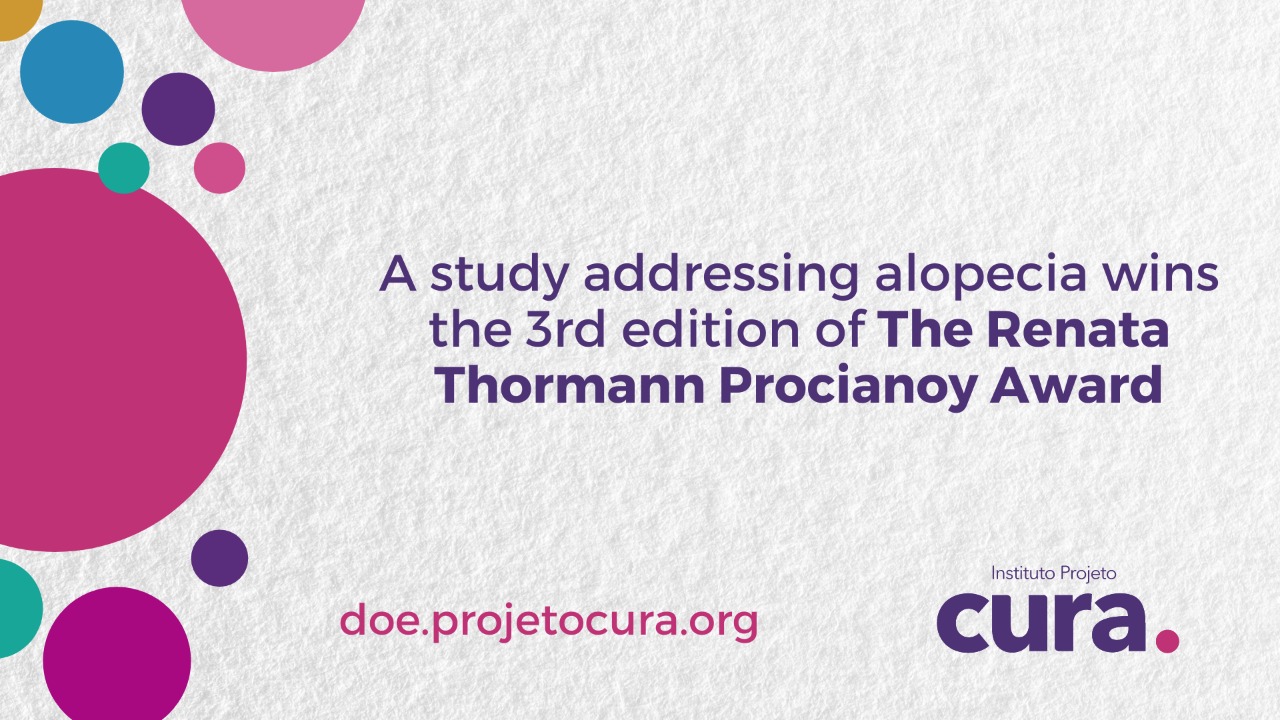 This Wednesday (16), the public was informed about the winner research of The Renata Thormann Procianoy Award, which was idealized by the Instituto Projeto Cura. The investigation, named "Randomized study addressing the use of hand-held power heater versus observation to reduce the discomfort during scalp cooling, to prevent the alopecia induced by chemotherapy", is led by Dr. Luciana Landeiro and aims at providing overall and thermal comfort to breast cancer patients exposed to scalp cooling during their chemotherapy treatment, as an attempt to prevent the Alopecia Areata (loss of hair). The awarding ceremony was held on the 16th, as part of the 2021 Best of ASCO Annual Meeting – Brazil Edition. Winner Profile Female and born in the Northeast area of Brazil, Dr. Luciana Landeiro has defined breast cancer and gynecological tumors as her main area of investigation. The physician initiated her professional trajectory as a scholarship fellow in a Hepatology research group at the Federal University of Bahia. Years later, during her Oncology medical residence, she focused her efforts in the improvement of life quality for oncological patients. Additionally, she attended post-graduation in clinical research at the Harvard Medical School. Subsequently, during her PhD course in Clinical Oncology, at the São
The latest memo inOncology SPECIAL ISSUE summarizes a selection of abstracts of clinical interest ranging from early-stage disease to the metastatic setting. This report brings the role of adjuvant chemotherapy as well as targeted options and sequencing issues with KRAS, HER2 and ALK mutations into focus. Moreover, novel treatment approaches in the EGFR-mutated NSCLC and small-cell lung cancer, relapsed malignant mesothelioma or pretreated NSCLC are among other topics reviewed. As an additional feature, you will find expert video interviews with Alex Spira, Luis M. Montuenga & Ming Tsao on different conference highlights on our website. Another video interview with Sandip Patel will be released beginning of April. Download full report The memo inOncology Special Issue report is produced by Springer, as a supplement of memo (the Magazine of European Medical Oncology) and sponsored by Boehringer Ingelheim and BeiGene with an unrestricted educational grant. For more information on the memo inOncology Special Issue series, and for free access to all previous editions, visit the memo-inOncology website.
In this annual multidisciplinary meeting, attended by all professionals related to breast cancer, a comprehensive review of the advances in research, diagnosis and treatment of this disease is carried out.The main objective of this event is to become the reference for all those interested in knowing in an independent, complete and critical way the advances in breast cancer. The event will take place on June 17th and 18th in a virtual format. Sign up on the website:: https://www.ragmageicam.org/ Check out the event schedule
Live Webinar, Saturday July 3th The program will offer a scientific update including original presentations from the 2021 ASCO® Annual Meeting. Renowned international speakers will select the most significant studies and provide insights on how the results may impact on clinical practice. Relevant regional speakers will complement the presentations by demonstrating the impact on clinical practice with updates to current treatment algorithms. Each section will feature a rich clinical discussion moderated by the Program chair and co-chair, complemented by opportunities for questions to be raised by the participating audience. This program has been made possible through Platinum sponsorship from MSD and Silver sponsorship from BIOMM. Register to participate
Daniel Herchenhorn, Vinicius Freire, Thamires Oliveira, Juliana Tarouquella - Crit Rev Oncol Hematol. 2021 April
Sibylle Loibl, Frederik Marmé, Miguel Martin, Michael Untch, Hervé Bonnefoi, Sung-Bae Kim, Harry Bear, Nicole McCarthy, Mireia Melé Olivé, Karen Gelmon, José García-Sáenz, Catherine M. Kelly, Toralf Reimer, Masakazu Toi, Hope S. Rugo, Carsten Denkert, Michael Gnant, Andreas Makris, Maria Koehler, Cynthia Huang-Bartelett, Maria Jose Lechuga Frean, Marco Colleoni, Gustavo Werutsky, Sabine Seiler, Nicole Burchardi, Valentina Nekljudova, Gunter von Minckwitz - Journal of Clinical Oncology. April 01, 2021.
Carlos Barrios, Ruffo Freitas-Junior, Sandro Martins, Jose Bines, Maria Del Pilar Estevez-Diz, Maira Caleffi - Journal of Clinical Oncology no. 7. April 6, 2021
Erica L Mayer, Amylou C Dueck, Miguel Martin, Gabor Rubovszky, Harold J Burstein, Meritxell Bellet-Ezquerra, Kathy D Miller, Nicholas Zdenkowski, Eric P Winer, Georg Pfeiler, Matthew Goetz, Manuel Ruiz-Borrego, Daniel Anderson Zbigniew Nowecki, Sibylle Loibl, Stacy Moulder, Alistair Ring, Florian Fitzal, Tiffany Traina, Arlene Chan, Hope S Rugo, Julie Lemieux, Fernando Henao, Alan Lyss, Silvia Antolin Novoa, Antonio C Wolff, Marcus Vetter, Daniel Egle, Patrick G Morris, Eleftherios P Mamounas, Miguel J Gil-Gil, Aleix Prat, Hannes Fohler, Otto Metzger Filho, Magdalena Schwarz, Carter Du Frane, Debora Fumagalli, Kathy Puyana Theall, Dongrui Ray, Cynthia Huang, Maria Koehler, Christian Fesl, Angela De Michele, Michael Gnant - The Lancet Oncology. Volume 22, Issue 2, February 2021