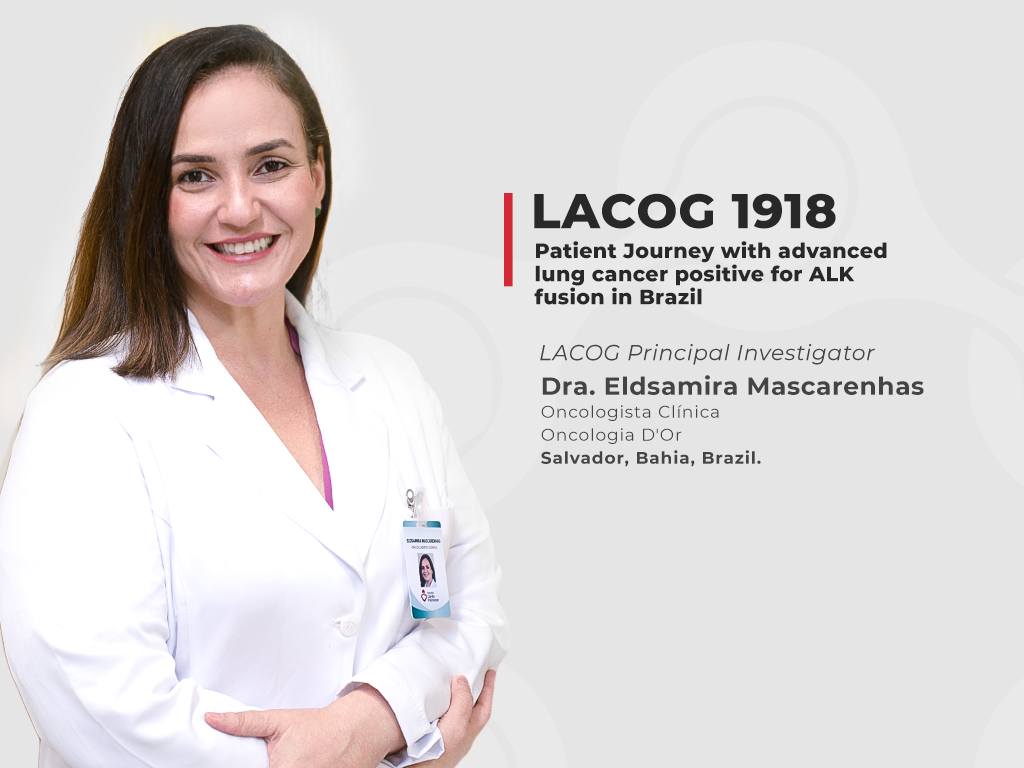 The challenges of lung cancer patient's journey: from diagnosis to treatment
The delay between diagnosis and the beginning of a disease treatment is a reality for many patients, oncological or not. Such delay has a significant impact on the quality of life and, in many cases, on overall survival of patients. Seeking to describe the journey of patients with ALK-positive non-small cell lung cancer, Dr. Eldsamira Mascarenhas, a clinical oncologist at Oncologia D'Or Salvador, along with LACOG, is coordinating the observational study: The journey of patients with ALK-positive advanced lung cancer in Brazil (LACOG 1918).
"We wish to understand what patients with ALK-positive advanced lung cancer face from the moment they receive the diagnosis until the beginning of treatment. With this information, we will be able to act more effectively and therefore provide earlier diagnosis and therapy", she explains. According to Dr. Mascarenhas, studies like this are important because there has been a significant increase in cancer incidence over the years. "Developing a clinical research will answer important questions we have about this population."
Dr. Mascarenhas believes that clinical research transforms society around the world. However, Brazil still does not play a prominent role in this scenario since we have had little participation in the development of studies. For that reason, the work done by institutions that promote scientific research, such as LACOG, is crucial not only to Brazil, but also to the whole Latin America. "Brazil is a vast country and there are regional differences that we need to learn about so that we can customize research plans according to the characteristics of each region", comments Dr. Mascarenhas.
She also says that the participation of research sites is vital to the development of actions that expand the country's participation in such challenging contexts like the creation and execution of investigator-initiated studies. The investigator plays a central role in this type of research considering that he or she designs and participates in the entire construction phase of the project. "It is the commitment of each investigator in his or her site that will make the study viable. Only by embracing the cause, along with the support of research sites, will we be able to carry out studies like this."